Software
Civil Suite
Fair Price. Full CAD. Free Support. The Civil Choice!

Carlson Software's Civil Suite is a powerful bundle made up of: Carlson Survey, Carlson Civil, Carlson Hydrology, and Carlson GIS. These four civil-related modular programs, working together, will allow you to create all of your deliverables at a fraction of the long-term costs of other software providers.

Survey
Carlson Survey is designed for use for land surveying. It provides a full toolkit for surveyors with everything from network least squares to surface modeling. Users get the ability to work seamlessly between the office and the field and they can establish company-wide design styles to ease and speed their work.
Carlson Survey will run in AutoCAD® as well as AutoCAD® Map, Land Desktop and Civil3D and also on IntelliCAD.

Civil
Carlson Civil 2017 provides enhanced Civil features and support for AutoCAD® 2017 and the upgraded IntelliCAD®8.2. Carlson Civil is a complete civil engineering software featuring 'Fair Price. Full CAD. Free Support!'

Joining past focus on 3D features and enhanced collaboration options are a new Cut/Fill Movement Analysis command, which allows users to compare two surfaces and determine the optimized cut and fill for the site and provides reports by the distance moved, allowing users to analyze which equipment to use, such as dozers for shorter distances, shovel and trucks for longer distances.

Another top enhancement in Carlson Civil 2017 is the ability to create a curb ramp out of 3D polylines – the program adjusts the polylines to fit in the ramp to your specifications. Other top features that are in all Carlson 2017 releases include the Carlson Community for sharing files with other Carlson users; the new "Supersonic" 3D Viewer for loading surfaces that provides excellent graphic presentations; an improved Report Formatter; and a new command for importing MSWord documents and dynamically link them to drawings.

Carlson Civil is the civil engineering design software that puts you in the passing lane! What might take days with other civil engineering software takes just hours, or even minutes, with the powerful and intuitive Carlson Civil–it's advanced technology that will work for you.

Work with Carlson Civil on AutoCAD (versions 2010 to current) or with the built-in IntelliCAD 8.2. With Carlson Civil, you'll get true 3D, easy-to-use 3D, plus, with the updated 3D Flyover, any surface edits made in CAD are automatically updated in the 3D view.

Road NETwork – Build all roads, intersections and cul-de-sacs in 2D and 3D with a single click of the "PROCESS" button.
SiteNET – Elevate your estimating accuracy with this intuitive layer-based surface generator and earthwork calculator.
LotNET – Quickly define an entire subdivision of lots based on an outer boundary, interior ROWs or Centerlines, and a simple set of user-defined "rules," then pick "PROCESS" and the lots appear, defined and labeled.

GIS
With tools for data capture and linking, data labeling, import/export of SHP files, polygon topology creation and analysis, and more, Carlson GIS is an awesome GIS "Swiss Army Knife" for the surveyor or engineer. Carlson GIS runs atop of regular AutoCAD, AutoCAD Map, Land Desktop or Civil 3D, as well as legacy versions, plus on IntelliCAD.

Import GIS Data From SurvCE
New command to create GIS data links in the drawing from attribute data collected by SurvCE
Export GIS Data To SurvCE
New command to create SurvCE files for feature code library, GIS feature definitions and GIS attribute data from selected drawing entities with GIS data, Field-to-Finish and GIS definitions
Esri MSC
Added option to create Esri feature coding in DWG for sewer networks, lot files, mining timing and surface mine reserves

Hydrology
Carlson Hydrology 2017 is here with the main new features including access to lookup rainfall amounts in NOAA Atlas 14, new watershed commands operated by grid files for watershed perimeters and runoff tracking, plus the option to draw out sewer lines just as a polyline before converting them in the sewer model.

The Utility Network has also been expanded to allow more shapes and utility types – gas, water, communication, storm. Improved reporting is a focus in Carlson Hydrology 2017 with support for multiple storm events per report and more formatted reports with PDF output. This is in addition to its support for AutoCAD® 2017 and IntelliCAD® 8.2.

Recently released, IntelliCAD 8.2 includes new support for working natively with .DGN drawing files, a new in-place MText editor, new support for maximizing and minimizing viewports, improved performance when working with complex blocks, automatic paper size setup for new layouts, and more. Carlson Hydrology is a comprehensive, yet easy-to-master civil engineering software solution providing automation you can use to meet your hydrology needs. Full 3D road and lot design feed directly into flow calculations and drainage design.

Enhanced collaboration options are highlights of the Carlson Civil and Carlson Hydrology. The Settings Server enables CAD managers to easily distribute uniform command settings and files to Carlson users throughout their company. Additional highlights of Hydrology m0odule include:
Hydrograph Editor – New command to edit time and flow data in a spreadsheet.
Pipe Culvert Design – Added outlet control by gradually varied flow method.
Utility Network – New command to define model for utility networks.
Data Collectors & GPS
The All-New Carlson RT3 Ruggedized Tablet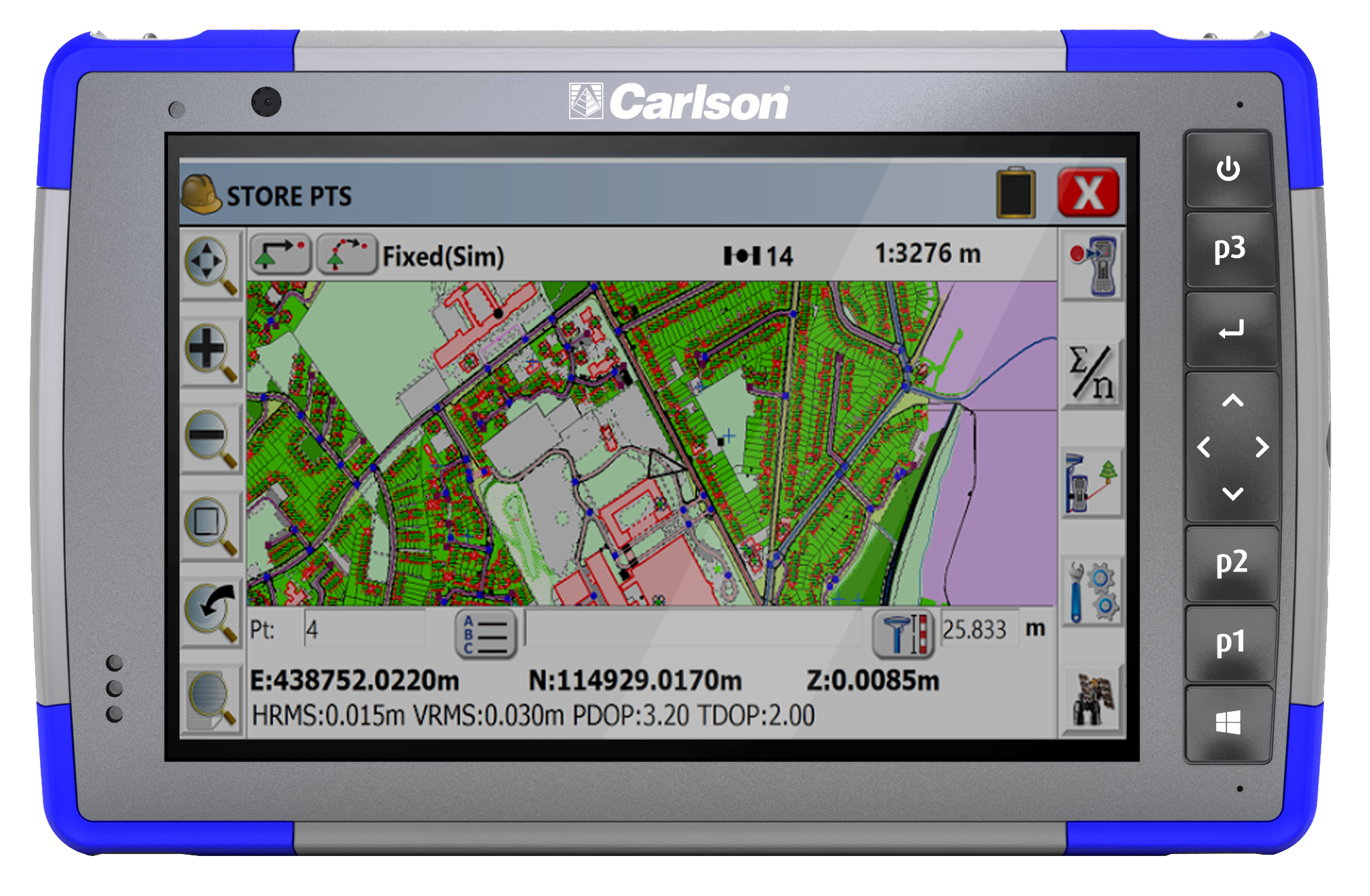 Powerful mobile data collection functionality in the harshest weather environments
The Carlson RT3 is designed for surveying, stake out, construction layout and GIS mapping and is bundled with Carlson SurvPC – the Windows-based data collection program – with the option of running with the Esri® OEM program for use in the field. Or use in the office with any Carlson office software. Along with the 4GB of RAM, 64GB or 128GB storage options, collect and analyze your data quicker than ever before.
For more info click HERE!
---
The New Carlson Surveyor2
The Carlson Surveyor 2 is even more rugged than its popular predecessor — IP68 water & dustproof; shock resistant. Still just 2 pounds and the QWERTY keyboard speeds data entry.
Comes with a larger, brighter display screen with a higher resolution, easier-to-read color display with scratch-resistant glass.
Faster Processor — More on-board storage space — now 8GB; and 1.0 GHz processor

Long-Range Bluetooth — Up to 1500 feet paired with class I device


Extended Battery Life — Up to 20 hours
---
Carlson BRx6 GNSS Receiver
The BRx6 is Carlson's all-new multi-GNSS, multi-frequency smart antenna. The BRx6 provides robust performance and high precision in a compact and rugged package. With multiple wireless communications ports and an open GNSS interface, the BRx6 can be used as a precise base station or as a lightweight and easy-to-use rover.
The Carlson BRx6 GNSS receiver is designed to work seamlessly with most data collectors including Carlson's rugged and popular data collectors: the Carlson Surveyor2, the Carlson MINI2, the FZ-M1 Tablet, and the Carlson RT3.
Designed for use by surveyors, contractors, builders, engineers and many others, the BRx6 can be purchased as either a Rover or as a Base/Rover package. The Base/Rover package includes two BRx6 GNSS receivers, two hard-sided carrying cases, four BRx6 batteries with two chargers, one GPS tribrach and one tribrach adapter, and two Carlson GPS receiver poles.